Instructions

What is Google Earth?

Tour 3: The Long Ride
Minneapolis lies 1982 kilometres to the southeast of Edmonton - by far the longest segment of my trip. Fortunately this route is made up of easy terrain that I'm more than a little familiar with. I've traveled the prairies by bicycle fairly extensively throughout Saskatchewan, southern Alberta and western Montana.
Leaving Edmonton a day later than I planned, I was eager to make up time during the first part of the ride. Luckily the weather cooperated for the most part, providing me with generous tailwinds and clear, bright skies. In just six amazing days of cycling I reached Regina where I took a short break and visited my old haunts. By the time I got back on the road the weather had taken a turn for the worse - I dodged thunderstorms all the way to Estevan where I crossed into the United States. Luckily, things cleared up when I got to North Dakota, and stayed pleasant all the way into Minneapolis.
Crossing the entirety of the prairies, this segment shows some of the more subtle difficulties facing the long distance cyclist - namely isolation and monotony. This portion of the tour consisted of sixteen days of pedaling, a handful of rest days, and a whole lot of flat.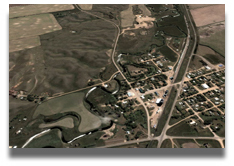 Download the tour here.