Instructions

What is Google Earth?

Tour 4: Too Many Miles
After a great week in Minneapolis I headed out for Kingston. Due to an oversight in my scheduling I gave myself only 13 days to complete all 1750 kilometres of this segment. This ride would test my physical and psychological stamina in every way.
To make matters worse, I didn't actually leave Minneapolis until 6pm the day after the show was over, on account of the volume of traffic we had at the gallery. I barely got across the Wisconsin border before I had to pack it in for the night. But beginning the very next day I put together an amazing series of rides. I went the entire width of Wisconsin - 500km - in just three days, and made it to Sault Ste Marie - another 300km - in two more. I took a quick break in the Sault before heading back out onto the highways for eastern Ontario. Three giant days - 190km, 180km and 170km respectively - set me up for a relatively easy final plunge into Kingston. I arrived in town tired and sore, just fourteen hours before my show opened.
If I had given myself a little more time this would probably have been the most enjoyable part of the whole trip. Beautiful Highway 64 across Wisconsin was a welcomed relief from the dreariness I had experienced on the prairies. The Upper Peninsula of Michigan was even more spectacular, as my route closely followed the sandy beaches of Lake Michigan. The truck traffic and road conditions of northern Ontario tested my patience, but once I got to North Bay things seemed a little easier on the body and brain. The last couple of days crossing eastern Ontario farm and forest country were particularly pleasant.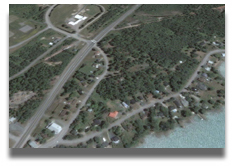 Download the tour here.