Instructions

What is Google Earth?

Tour 6: Homecoming
With my exhibition at Struts Gallery finished, the end of my project looming near, and a slight chill of autumn in the air I set out from Sackville towards St. John's.
For me - and realize my bias when I say this - nothing compares to the natural beauty of Atlantic Canada. Passing from the pastoral countryside of Nova Scotia to the ocean, forest, and mountains of Newfoundland I found myself enjoying this portion of the tour more than any other. I also had some of my best nights of camping on this segment - at Melford in Cape Breton where I woke up to a heavy frost, next to the ocean at the abandoned Indian Head campground in Stephenville, directly on the sandy beach at Birchy Narrows, and next to the Exploits River in Badger.
Newfoundland seems to me to be a paradise for touring cyclists. The roads are great, there's not much traffic, and the scenery is unsurpassed. Definitely check out this tour on Google Earth, and if you're only going to try one real bike tour in your life this should be it.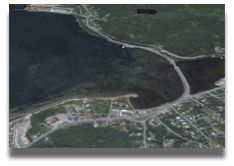 Download the tour here.